Happy Friday! Here are some great resources for staying healthy and fit: free online workouts and dance videos geared for kids, teens, and families. We've also included some of our most popular home exercise therapy tools. Make exercising easy by trying to incorporate short exercise and sensory breaks sporadically into your daily routine (input that can be so calming and helpful for resetting nervous systems).
Wishing you a peaceful and relaxing weekend – Your Therapy Shoppe Family ❤️

p.s. As always, feel free to reach out to us with any questions you might have or if you need individualized suggestions.
_____________________
Free online resources for kids:

Active Kids offers lots of different free online workout classes for kids
Just Dance Youtube Channel has lots of fun dance routines originally from the popular "Just Dance" games
Cosmic Kids features a variety of yoga and wellness routines geared for kids
Sworkit provides a fun smorgasbord of fun kid-friendly workouts
_____________________
Free online resources for teens/adults:
Fitness Blender offers tons of free workout videos for all levels
Yoga With Adriene is a popular Youtube channel with tons of free yoga videos
Alchemy 365 offers free live and on-demand workout classes
Planet Fitness is regularly streaming at-home workouts on their Facebook page
_____________________
Therapy Balls are one of the most versatile sensory motor / exercise therapy tools there is! These durable balls are superb for deep pressure ball massages, strengthening activities, postural adjustments, balance work, and lots of fun gross motor play activities. Users of all ages can sit, lay, bounce, dribble, play 2-handed ball passing and kicking games, and much more. They are super easy to sanitize with spray, soap and water, or wipes. They support up to 200 lbs. (but are not designed for using heavy weights while sitting or doing exercises on them).
Practice bending, twisting, breathing, and relaxing with Yoga Pretzels, a vibrantly colored set of 50 illustrated yoga cards that provide a healthy dose of fun, while teaching all the basics of yoga! Yoga builds children's minds, bodies, and spirits – as well as their coordination, flexibility, balance, and sensory processing skills. 50 color-coded activity cards in 9 categories, each 5"x7" card has a pose on the front and illustrated, step-by-step directions on the back. Families will have a blast flying to Africa on their own yoga plane and meeting some enchanting African animals; floating down a yoga river as their body becomes the river, a boat and a bridge – and so much more. Effective mind-body-spirit fitness fun for the whole family!

SOFT AND SQUEEZY... You'll love the feel and versatility of our soft weighted therapy balls! Excellent for providing deep-pressure, input, these 5" balls are the perfect size for children, teens, or adults. The firmness can easily be changed with a needle-nose style pump (not included). Great for upper extremity strengthening and developing gross motor skills. Comes in 5 different weight choices.
Ideal for children who find therapy balls too challenging! Donut Balls are a nice gross motor tool for exercising and balance activities. They also make a great sensory seat (that provides movement input that tends to be very calming and focusing). OTs and PTs love them for core strengthening and prone activities (lying on your stomach) as they offer nice trunk support. These fun-shaped sensory therapy balls are "kid magnets" for just sitting and bouncing.

Introduce kids to the amazing benefits of yoga with this neat sensory-motor skill-developing game that combines fitness and fun! Yoga Spinner includes 54 colorful, oversized yoga pose cards and a spinner that doubles as a carry case. This neat yoga game provides a fun way to build balance, strength, flexibility, bilateral coordination, and other important gross motor skills.

Comfy 1/2 or 1 lb. cuff-style weights made of neoprene on the outside and soft terrycloth on the inner side. These quality weights have an adjustable velcro-closure strap that helps provide a just-right, custom fit! An effective sensory tool for building strength and providing extra sensory input while exercising, writing, eating, and other motor skill activities.
You're going to LOVE these stretchy self-regulation sensory tools that are like Stretchy String x 100! Extra rugged and wonderfully stretchy 13" rubbery exercisers made of a phenomenally durable and thick, translucent gel-like material. This jumbo ribbed stretchy string features a very textury bulb-shaped grip on each end. They make a superb self-regulation tool for providing calming proprioceptive input, and offer a great hand strengthening or upper body workout anytime, anyplace.
GREAT FOR KIDS! This heavy-duty, round rubber tubing is excellent for strengthening exercises and short calming sensory breaks. Comes in 4 therapeutic grades for every strength and fitness level. We offer it by the yard (or in 10 yard rolls)! Cut it to any length you'd like with regular scissors and tie knots in it to cue kids where to hold it. Easy to tie onto doorknobs or armchairs.
Latex-Free Stretchy Exercise Bands
Superb quality LATEX-FREE stretchy exercise bands that come in 3 different resistances. Excellent for deep pressure activities and strengthening/stability exercises, and developing important gross motor skills. Nice to use with our Stretchy Band Door Anchors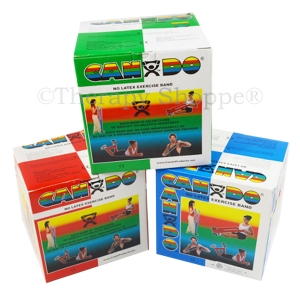 Yoga Dice Game is a versatile yoga set that's nice for a little calming / focusing sensory break for homeschoolers. Makes a fun family fitness game and unique way to make "freestyle yoga" more interesting! This neat set includes 6 yoga pose dice, a "breath counts" dice that tells you how long to hold the pose, a game mat, player tokens, and a convenient drawstring storage bag. Just roll the dice and complete the yoga poses; a fun way to build gross motor skills, body awareness, balance, flexibility, bilateral coordination, core strength and sensory processing skills.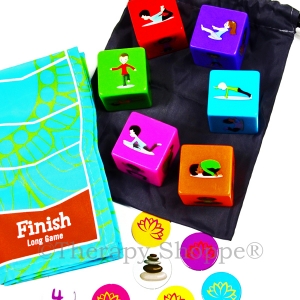 Super Duper Double Jelly Stretchers
Super Duper Double Jelly Stretchers are like a double stretchy string x 100! Extraordinarily rugged and stretchy, double-string-design rubbery 13" exercisers made out of a solid gel-like material. Jelly Stretchers are a superb deep pressure sensory tool for fidgeting, self-regulation, strengthening hands and arms and provides a great upper body workout at home.
Colorful "See and Do" cards provide an engaging way to build body strength, gross motor, motor planning, body awareness, bilateral coordination skills! Set includes 16 beautiful, 8-1/2" x 11" photo cards. Cards are color-coded by difficulty level and have illustrated instructions on the back. This neat set includes warm-ups and activity routines.
Zipper Zoom Balls are a super fun 2-player toy that are great for developing upper body strength, bilateral coordination, timing, motor planning, and core strength! Each player holds 2 plastic handles and "sends" the 8" plastic zipper ball zooming back and forth. A fun therapy exercise toy for the whole family (recommended for ages 7 or 8+). This unique "working together" partner toy is fun for indoor or outside play.
Set of 6 extra sturdy, flat 15" seamless hoops that are superb for deep pressure and movement stimulation, working on hopping, balance, bilateral coordination skills, motor planning, core strength, body stability, motor planning skills, and more. Includes 5 clips for snapping the hoops together in all planes. Fun for obstacle courses!

Use this versatile disc for balance training, vestibular stimulation, developing core muscle strength, as a foot fidgeting device, or as a sensory "wiggle seat!" This thick 14" cushion has 100's of delightfully tactile "spikes" on one side and a softly-molded-rings pattern on the other that helps stabilize your feet during balance activities. The most tactile of all our discs, you'll LOVE the versatility of this quality air cushion!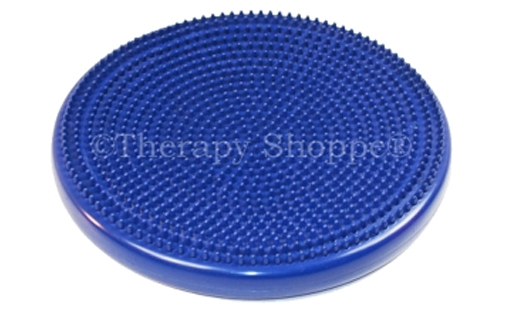 50 Sensorimotor Activities Book
This phenomenal OT-created resource is a compilation of 50 fabulous sensorimotor activities that tap into imaginative play. Kids have a blast as they build their body strength, coordination, bilateral, and gross motor skills with fun activities that help them calm or energize. This compact 8-1/2" x 6-1/2" resource is wonderfully user-friendly, has gorgeous colorful graphics, concise directions, a quick reference chart, and includes color-coded therapeutic benefits for each activity.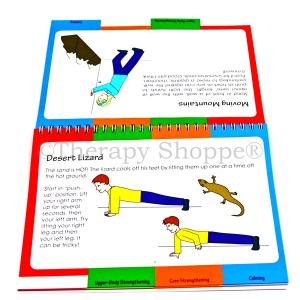 Turn any exercise, homework assignment, or therapy activity into a game! This awesome set features 4 round "game show buzzers" with 4 fun sounds: honk honk, boxing bell, doorbell, and BOING. Fun Sound Answer Buzzers provide a crazy fun way to get kids excited and eagerly engaged! Great for obstacle courses, too. Also comes in a Lights and Sounds version.
Parents and therapists love these peanut-shaped therapy balls that only roll 2 ways and are easier to control. Peanut balls have a unique "saddle seat" that can easily hold an adult and a child, while providing moderate mobility and extra stability. Terrific for working on balance, body awareness, stability, core strength, providing vestibular input, and more. In 2 sizes.

Super compact 7" pump that weighs mere ounces! This handy dandy tool pumps up your favorite therapy ball, balance cushion, wiggle seat, and pool floats in a flash. A super pump at a great price.