During this time of lots of changes and uncertainty, one thing you can count on (that hasn't changed!) is we're here to help make your life easier with innovative tools, time-tested strategies, helpful therapy activities, and amazing products that can help reduce some of the stress and anxiety your family may be experiencing.
Our customer care team and occupational therapists are here to serve you from 8:00 to 4:30 Monday thru Friday, eastern standard time. We continue to be fully operational and shipping orders worldwide every day. While we're still shipping orders out crazy fast as always, transit times are a bit slower than usual.

Stay safe and know we're right here for you, so please reach out if we can be of assistance.
– Your Therapy Shoppe Family ❤️
_________________
Below are 23 expert-selected fidget tools that can be helpful for reducing stress and alleviating anxiety.

1. Ooey Gooey Glitter Bead Ball™
Ooey Gooey Glitter Bead Sensory Balls™ feature a rubbery skin filled with glitter, water beads, and extra thick gel. These extraordinarily tactile fidgets ooze through your fingers as you squish and squash them. They feel super ooooey gooooey to the touch, but don't leave any sticky residue behind on your fingers when you finally force yourself to put it down! These incredibly soothing stress balls will soon be one of your all-time favorites!

Gidget Widget Cubes are an addictive 6-sided fidget tool with 6 wonderfully different, fidgeting functions that keep minds more focused and fidgety fingers entertained for hours! Users can mindlessly roll, spin, glide, toggle, flip, and click a lot of stress away. This popular palm-sized fiddle is ideal for fidgeters who need something in their hands to keep their minds engaged and anxiety in check.

Thinking putty is like chewing gum for your fingers! Turn on your brain and melt stress away with this mesmerizing sensory fidget putty. This wildly popular silent putty comes in assorted vibrant colors and handy little pocket-sized tins. We carry a HUGE selection of Thinking Putty sizes and options (big tins, medium tins, scented thinking putty, glow-in-the dark, glittery, shimmery.... even Pizza and Bubble Gum Thinking Putty). Click here to check out all the amazing options

Presenting a magical, tactile fidget, sensory tool, and light show combined in one spectacular fiddle ball! This extraordinary ball lights up and changes color with the touch of a button. It features an amazing texturey skin, 7 gorgeous light colors, and 3 light modes, including 3 different flashing light shows. You'll adore this soothing figit.



5. Dual Splendor Gel Timer

Dual Splendor Gel Timers are a sleek 5" curved gel timer containing two beautiful colors that slide 'n glide back and forth down a series of slides. This mesmerzing fidget timer is perfect for taking a mini sensory break from homework, after a meeting, or during a phone call – anywhere soothing eye candy is needed to calm your mind, relax your body, and to help you re-focus. This stress-relieving visual tool is designed for older children-adults (as it will potentially crack, leak, or break if it's dropped, etc.).

6. Stretchy Mice and Cheese

Kids-teens love this cool stress-busting, stretchy fidget set that includes 2 darling little stretchy mice that love playing hide 'n seek in their stretchy hunk of cheese! Stretchy Mice and Cheese are terrific for building finger dexterity, motor planning, and fine motor skills – and will provide hours of mind relaxing fun! Sensory seeker fidgeters especially adore this very touchy feely tactile sensory toy!

7. Jeliku Amazing Fidget Toy

Unleash your creativity with this extraordinary 3-dimensional fidget you can bend, fold, and "sculpt" into 100's of different designs. Create animals, shapes, and FUNctional things like picture easels and cell phone holders.... the sky's the limit! This one-of-a-kind fidget tool folds down to the size of a credit card and expands to almost 18"! An engaging and entertaining stress reliever.


8. Textured Metallic Tangles

Your favorite Tangle Fidget Toys in shiny bright, shimmering metallic colors and hypnotizing new textures! Twist 'em, turn 'em... you won't be able to put these relaxing silent sensory fidgets down! Metallic Tangles are nice for finger strengthening, too, as you can take the segments apart and snap them back together. Buy a bunch and connect them all together for one delightfully colorful jumbo tangle snake! Come in assorted shiny colors and delightful assorted textures that your fidgeting fingers will go crazy over!

9. Squeezie Animals

Our lovable little squeezie fidget animals are designed especially for therapeutic squeezing, stress-reducing, finger strengthening fun. These darling squeezies are delightfully detailed and colorful. A fun stress relieving sensory toy that's nice for slowing down racing minds and keeping fidgety fingers peacefully engaged.

10. Wipe Clean Fidget Squares™

Colorful TRUE Wipe Clean Fidget Squares™ are made of an innovative material that can be sanitized with wipes or spray on the spot! These exclusive Therapy Shoppe® fiddles make an excellent calming fidget tool for reducing stress and anxiety. Ideal for first responders, medical personnel, travel, home, car rides... the sky's the limit for these smart and safe figit tools.

11. Taffi Putty

Wonderfully lightweight, airy fidget putty that feels like fluffy stretchy taffy! Destined to become a new sensory putty favorite, Taffi Putty makes a delightfully tactile, silent focus tool. Fidgety fingers will be silently engaged for hours stretching, boucing, squishing, and kneading this dazzling, very addictive finger putty.


12. Neato Doh Fidget Balls

Once in a blue moon a REALLY AMAZING squishy squeezy fidget comes along – and Neato Doh Fidgets are it! You'll be crazy about this sensationally soft, dough-like ball that has a ravishing silky, rubbery skin. It feels like you're kneading a handful of fluffy whipped potatoes! Neato Fidget Ball is an amazing sensory fidget tool for tactile sensory seekers and touchy feely fidgeters. We carry a wide selection of Neato sensory balls – Check all the cool choices here.


13. Benji Fidget Rings or Colored Wire Fidget Rings
Fidgeters, sensory seekers, hair pullers, and skin pickers ADORE these awesome fidget tools that provide soothing massaging tactile input as you roll them up and down your fingers. Benji Fidget Rings feature individual tiny metal rollers you can spin individually or together! Colored Wire Fidget Rings can also be gently snapped and stretched. Both are made of lead- and latex-free, safe materials.


14. Twirly Orbs™

If you like spinning fidgets and moving parts, you'll LOVE our nifty new Twirly Orbs™ fidget! These silent fiddles feature 4 concentric rings that active fingers can twirl, turn, roll, and spin – one, two, or all 3 together! You can even take it apart and turn it into two separate fidget spinners. These dazzling, addictive twirlers are terrific for keeping restless minds and nervous fingers happily engaged.



15. Squishy Gel Bead Fidget Squares

Irresistibly squishy squashy 4"x4" clear fidget squares that have 100's of tiny colored gel beads inside! These heavenly sensory splendors are designed for older children-adults, 8-up. These pocket-sized squishy fidget squares can be chilled, too.


16. Mold n' Squeeze Face Balls

Hypnotizing squishy squeeze ball that holds its shape when you squeeze and mold it! Stretch it out, flatten it like a pancake, then mold it back into a ball. This rubbery, delightfully tactile sensory ball is filled with dense starchy powder that provides hours of heavenly finger strengthening fidgeting fun. Its rubbery smiling face is topped with 100's of wispy rubbery hair strands that are great for tickley hand massages, running your fingers thru it, or gentle tugging.




17. Bendeez

Imaginations soar as the hours fly by bending, twisting, and sculpting this 15" rubbery band into infinite shapes and designs! This extraordinary sensory fidget toy makes a great silent fidget tool for anytime, anywhere.

18. ISO Flex Fidget Ball

Iso Flex Fidget Balls are fist-sized, stress-relieving fiddles that have a very thick, balloon-type rubbery skin and mega resistive micro bead filling that provides an awesome finger workout. These nearly impossible to put down rubbery fidgets help to keep teens and adults calmer, more focused, and "breathing the peace."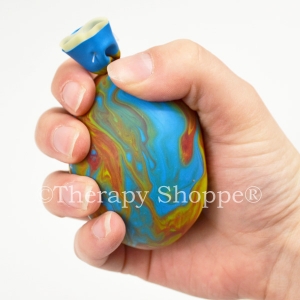 19. Poke & Pop Waffle Fidgets™

If you're a bubble wrap popping addict, you'll ADORE these one-of-a-kind finger skill fidgets that have 28 little rubbery bubbles that are amazing for old fashioned fidgeting fun. Press the bubbles down and they make a soft "popping" sound similar to bubble wrap; then flip it over and begin fidgeting again. Poke 'n Pop Waffle Fidgets™ are quieter than bubble wrap, but equally as satisfying! Waffle Fidgets™ are endlessly reusable and washable, too.

20. Sticky Light Write Ball

One of our most popular new fidget tools! Kids, teens and adults are nuts about these squishy, squeezy, delightfully tacky-feeling stress balls that you can "draw" on with the mini black light that comes with them. Just point the black light at the ball, start to "draw" and purple marks show up! Draw cool little doodles, faces, letters... let your imagination loose!
21. Sensational Sensory Circles
You'll find endless uses for this neat tactile exploration fidget kit that includes five 5" clear vinyl discs; each with a unique touchy-feely filling or covering. This touchy-feely sensory set includes: colorful moon sand, alphabet letter beads hidden among tiny beads, gel bead water bubbles, flip sequins, and velvety soft tentacles. Sensory Circles provide mesmerizing, anxiety-reducing, wonderfully satisying sensory input.

22. Compression Marble Maze Cuffs™
Neat wearable fidgets that you can fiddle with everywhere you go! You'll love our innovative new Compression Marble Maze Cuffs™ that are fully self-contained, skill-buiding sensory fidget tools you can use anytime, anywhere. Just slip one of these soothing, silky smooth compression cuffs onto your wrist and start fidgeting away. A Therapy Shoppe® exclusive.

Superbly tactile sensory balls overflowing with colorful "gumballs" in a rubbery skin! This very touchy-feely, tactile stress ball keeps nervous fidgety fingers happily engaged and minds more relaxed. An excellent fidget choice for tactile sensory seekers and individuals who are struggling with anxiety. Oodles Balls are designed for gentle fidgeting, ages 5-up.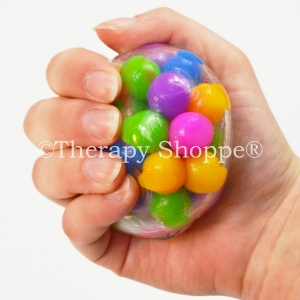 *Please be sure to note age recommendations and choking warnings, etc. that are listed in each product description.

For more helpful information about managing stress and anxiety, read our other exclusive Therapy Shoppe articles:
"Activities That Can Decrease Anxiety and Help Children Cope"
"25 Soothing Sensory Tools That Can Help Alleviate Anxiety"