Hello and welcome back, we hope this finds you doing well!
Calming fidgets and sensory tools can be wonderfully helpful for decreasing stress and anxiety.
Right now it's more important than ever to keep your hands and favorite sensory tools clean during during this time of the highly contagious Coronavirus; especially any sensory tools used in public places or taken outside of your home.
We offer a wide selection of TRUE wipe clean specialty products that can be sanitized on-the-spot with antibacterial wipes, spray – and/or washed in hot soapy water. Some are dishwasher safe, too! Now's the time to do everything in your power to keep your children, patients, and clients safe and healthy. Here are some of our customers' favorite choices:
Bahama Blue Squishy Sensory Gel Pad
This gorgeous 7"x16" squishy gel pad is filled with calming "bahama ocean blue" colored gel and oodles of tiny glittery stars, with 2 disc-shaped marbles and 3 black rings restless fingers can use as targets. This versatile self-calming tool is also marvelous for developing fine motor finger skills and eye-hand coordination.
This calming visual sensory tool is wonderfully soothing candy for your eyes. It features tiny gel droplets in 2 beautiful colors that zig zag back 'n forth, dancing down a mini gel stairway. Flip it over and the gel ballet begins again. Perfect for a little nervous system re-set anytime you feel overwhelmed or overstimulated.

Wipe Clean Weighted Shoulder Wraps
These one-of-a-kind, unscented TRUE Wipe Clean Weighted Shoulder Wraps provide wonderfully calming deep pressure input as they hug your shoulders and upper back. A nice alternative to weighted or deep pressure vests. Weighs 4.5 lbs.

Mesmerizing 6" wands filled with gorgeous colored gel and glittering stars that coil and dance together. A magical, visually soothing, anxiety reliieving sensory tool.
Neat squishy, squeezy fine motor sensory gel pad features 2 side-by-side sparkling gel waves that contain small plastic discs you manipulate through the dazzling blue and yellow waves. Makes a wonderful calming weighted lap pad, too!
This sensational new finger strengthening, stress-relieving rubbery fidget square fits perfectly in the palm of your hand. Give it a good squeeze, then release it for a wonderfully satisfying "popping" sensation. These fidget snappers are especially nice those who struggle with hair pulling, skin picking, nail biting, and for providing deep pressure input to hands and fingers.
Wipe Clean Weighted Lap Pads or Blankets
You'll love our TRUE wipe-clean weighted lap pads or blankets that can be effectively be sanitized on-the-spot with wipes or anti-bacterial spray. Both are filled with non-toxic, hypo-allergenic poly pellets that provide calming deep pressure input. Constructed of a durable laminate fabric, both choices have a colorful print fabric on one side and coordinating solid fabric on the other – it's like getting 2 in one!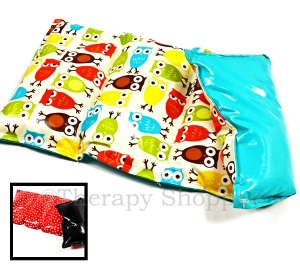 You'll LOVE these calming, chunky, silky smooth 1-1/2" fidget donuts that are made of latex-free, food-grade silicone. These feel amazing for spinning, and sliding up, down, and around your fingers.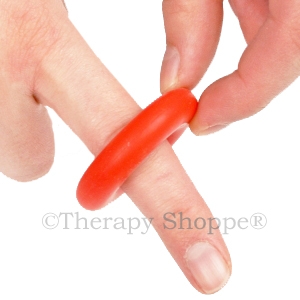 Breathtaking glittery gel shapes in 5 different geometric shapes; all are filled with colorful (or clear) gel and tiny sparkling stars. Wonderfully calming for quiet fidgeting and finger strengthening sensory input.
Super cool gel timers featuring a volcano-like mountain filled with 1000's of tiny red bubbles that "erupt" everytime you turn it over! This mesmerizing sensory tool is a great choice for calming spaces and quiet focus breaks.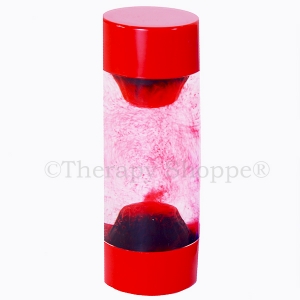 Glittery green, multisensory sensation that's senational for strengthening finger and soothing fidgeting fun! You'll be amazed how children's attending and focusing abilities increase as they manipulate the disk through squeezy, gel-filled paths. Best of all, this neat sensory toy can double as a weighted lap pad!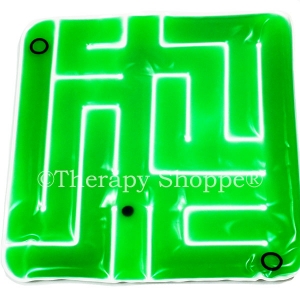 One-of-a-kind suction fidget toy that help build finger strength as you push, squeeze, and squish 'em together – and then pull 'em apart to make them pop! Skin pickers, hair pullers, finger nail biters, and tactile sensory seekers love the deep pressure input and "popping" sensation they provide.
Imaginations soar as the hours fly by bending this 15" rubbery band into infinite shapes and designs! Silent, safe, and easy to tuck in your pocket.

7 lb. Rectangular Gel Weighted Pad
Sensationally squishy squashy, 7 lb. Rectangular Weighted Gel Pad that features calming blue colored gel and a sea of shimmery floating stars that sensory tactile seekers adore! Provides calming deep pressure input that helps bodies feel calmer, better grounded, and more relaxed. A great choice for individuals who have ADHD, ADD, Tourette Syndrome, SPD, or anxiety disorders.
Squishy Gel Bead Fidget Squares
Irresistible squishy squashy 4"x4" fidget squares with 100's of tiny colored gel beads inside! You'll fall in love this neat palm-size sensory tool!
Feel anxiety and tension melt away as you rub these silky smooth gemstones between your thumbs and fingers. A very soothing, pocket-sized fidget to tuck in and take along everywhere you go.
Please feel free to give a call or shoot us a note if we can assist you, we'd be glad to help!
– Your Therapy Shoppe family 🌷